Introduction
Edit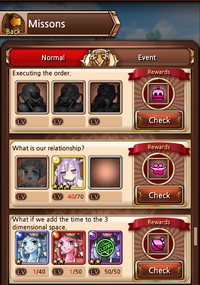 Located in the menu of the Library, the Missions are special badges that can be portrayed as a title for the player.
In order to unlock a badge, you must level max the required sidian(s). Once level maxed, the sidians will have have a "CLEAR" icon over their own icons. Due to recent updates, there is no need to keep the required sidians in order to complete the missions. You can dispose of the sidians and they will still have the "CLEAR" icon.
Once having gathered all the requirements, you can touch the "CHECK" button and the game will notify you that you unlocked the badge, and will put a "GET" icon over the badge's icon. After unlocking it, you can dispose of your sidians and display the badge in your profile.
Then, the completed mission will go to the bottom of the list.
The badges has a clue title referring which sidians you will need to unlock them. In order to unlock a mission, you have to do a certain requirement; most of them are clearing Classes at the School , or completing Chapter in the Gate .
To change the displayed badge, go to: Home/Map >> My Info >> "Change" button, upper right.


List of Missions
Edit
Title
Servant 1
Servant 2
Servant 3
Unlocked by
"Multi-kill! The eggs have been decommissioned."

Egg Crusher
Eggmon
Eggmon 3X
Blue Eggmon
Default
"I will visit you in your dreams tonight."

Nightmare
Teddy
Red Teddy
—
Magic for Beginners 201 cleared
"You can enter on your free will, but leaving won't be so easy."

Newcomer
Sebastian
Nicolini
—
Magic for Beginners 202 cleared
"You... how about joining the student council?"

New Student Council Member
Chaerin
Roben
—
Clubroom cleared
"Welcome to the dark student council."

Dark Student Council
Veronica
Lupin
—
Maze cleared
"Arrrrrrrr"

Arrrrrr
Mermaid
Purple Mermaid
—
Basilica San Mateo cleared
"How much? How much will it cost?"

2nd Generation Billionaire
Medicia
—
—
Palazzo Ducale cleared
"God abandoned me...So I will abandon him!"

Reckless Challenger
Fallen Angel
Great Fallen Angel
—
Intermediate Magic 301 cleared
"Do you also like snakes?"

Eckless Enthusiast
Medusa
Red Medusa
—
Teatro della Scala cleared
"I am being overwhelmed with inspirations!"

Genius Writer
Durantie
Shakespeare
—
Galleria delgi Uffizi cleared
"Proving his loyalty is what defines a knight."

Apprentice Knight
Iron Knight
Red Knight
—
Intermediate Magic 302 cleared
"This is a peace of cake for my student."

Passionate Teacher
Machiavelli
Johannes
—
St. Peter's cleared
"Who dares to wake up The Empress?"

Attacker
Golem Soldier
Golem General
—
Mausoleum of the First Qin Emperor cleared
"Save us, oh merciful Buddha!"

Apprentice
Sanzang
—
—
Dunhuang cleared
"Seduction is a skill of life too."

Great Beauty
Diaochan
—
—
The Forbidden City cleared
"I have been brought back to life after feeding on the cold soils of the grave..."

Resurrection
Vampire Girl
Red Vampire Girl
—
Muryong Royal Tomb cleared
"Excuse me, could I get some beans with sausages?"

Gourmet Food Lover
Fox
Golden Fox
—
Generals Tomb cleared
"Power comes from raw strength!."

King Maker
Bidam
Misil
—
Intermediate Magic 303 cleared
"I track the target until it's captured"

Huntsman
Shinobi
Red Shinobi
—
Todaiji cleare
"Did you acquire the assassination target?"

Assassin
Kunoichi
Red Kunoichi
—
Advanced Production 403 cleared
"I will serve you with my life."

Delusion
Himiko
—
—
Osakajo cleared
"The enemy is within."

Great Hope
Nobunaga
Akechi
—
.Advanced Production 404 cleared
"Hey, I won't die anyways!"

Immortality
Mummy
Red Mummy
Black Mummy
The Sphinx cleared
"Yawn~... So sleepy."

Sleepyhead
Red Gremlin
Blue Gremlin
—
Special Magic 501 cleared
"Behold! The Sun King" Marvel at my achievements!."

Pharao
Ramesses
—
—
Special Magic 502 cleared
"Where did we go wrong?"

Love Slave
Cleopatra
Antonius
—
The Pyramid cleared
"I have trained this body for thousands of years."

Muscle Power
Statue
Red Statue
Black Statue
Special Magic 503 cleared
"When the sound of cowbells ring."

Bullfighter
Red Minotaur
Blue Minotaur
—
Cnossos cleared
"Human behavior and the essence of truth."

Lussid Intellectual
Socrates
Aristotle
—
The Acropolis cleared
"Bring it on!"

Bad Boy
Achilles
Thor
—
Troy cleared
"I will protect this place... the last surviving paradise."

Animal Lover
Diana
—
—
Pompeii cleared
"Roar
Grrrr
"

Lone Wolf
Werewolf
Red Werewolf
Black Werewolf
Notre-Dame cleared
"Protect his majesty!"

Maternal Instinct
Guard Blue
Guard Rebecca
Marie
Versallies Palace cleared
"Don't bother me when I'm eating."

I am Hungry
Cosette
—
—
Eiffel Tower cleared
"Hey have you completed your holiday homework?"

Entomologist
Fabre
—
—
River Rhine cleared
"Declare war against the world."

Old Maid Hysteria
Calvin
—
—
The Heidelberg cleared
"It will sting a little."

Ministering Angel
Nightingale
—
—
Barcelona cleared
"Oh, my queen!"

Queen
Elizabeth
Bloody
—
Big Ben cleared
"Oh, my. Are there any requests for me?"

Detective
Victoria
Sherlock
—
Buckingham Palace cleared
"I trained hard on the organ, while in school!"

Cute Musician
Dvorak
—
—
Real production 603 cleared
"Arghhh! No way! I can't be second!"

Second Place
Salieri
—
—
Westminster Abbey cleared
"Call me the queen of the network."

Queen of the Network
Rete
—
—
A spacecraft out-bound dock cleared
"Executing the order."

Robot Mania
Molpos
Gunslinger
Deadspace
A space battleship depot cleared
"What is our relationship status?"

True Friend
Sirius
Catwood
—
Outside of the colony cleared
"What if time is factored in the third dimension of space??"

Oddball
Tulouran
Tanator
Kelsey
Mars surface cleared
"Wait for me. At the Time Space Engine."

Time Traveler
Moriarty
—
—
Center of Main Core cleared
Title
Servant 1
Servant 2
Servant 3
Unlocked by
"Welcome to Sid Story"
Welcome Sid Story
None
None
None
Given to all players when the game's name changed from Magic School Lussid to Sid Story.
"From now, this swimsuit is mine."
Swimsuit Fan
Summer Rete
Reward for leveling SR Summer Rete to the max level between 9/4 (Fri) 06:00 ~ 9/13 (Sun) 24:00 UTC.
"Have you seen an angel around?"
December Angel
Enoch
Sandalphon
Reward for leveling R+ Enoch and R+ Sandalphon to the max level during Season 35, between 12/16 (Wed) 00:00 ~ 12/31 (Thu) 24:00 UTC.
"Pimp My Husband!"

Cry Baby & the Fool
Pyungkang
Ondal
Reward for leveling R+ Pyungkang and R+ Ondal to the max level during Season 40, between 3/1 (Tue) 00:00 ~ 3/15 (Tue) 24:00 UTC
"What's that in the sky!"

Sky Pioneer
Wilbur
Orvilline
Reward for leveling S.Rare Wilbur and S.Rare Orvilline to the max level during Season 42, between 4/16 (SAT) 00:00 ~ 5/15 (SUN) 24:00 UTC
Student Body Election #5

OOO Supporter
Reward for getting a rank in top 10 for each contestant during SBE #5, 2016/4/11 (Mon) 00:00 ~ 2016/4/13 (Wed) 20:00 (UTC)
"Dr Jekyll and Miss Hyde"

This is the moment
Jekyll
Hyde
Reward for leveling R+ Jekyll and SR Hyde to the max level during Season 45, between 5/16 (Thu) 00:00 ~ 6/30 (Thu) 24:00 UTC
"Swing your pillow"

Pillow Fight
School Trip Darius
School Trip Constantine
School Trip Cixi Taihou
Reward for leveling SR School Trip Darius, SR School Trip Constantine and SR School Trip Cixi Taihou to the max level during "Lussid School Trip" Gacha Event, between 6/13 (Mon) 00:00 ~ 7/15 (Fri) 24:00 UTC
"Children's and Household Tales"

Bizarre Adventure
Jacob
Wilhelm
Reward for leveling SR Jacob and SR Wilhelm to the max level during Season 47, between 6/16 (Thu) 00:00 ~ 7/15 (Fri) 24:00 UTC
"A spell with her wish"

Curse Master
Queen Inhyeon
Okjeong
Reward for leveling R+ Queen Inhyeon and R+ Okjeong to the max level during Season 48, between 7/1 (Fri) 00:00 ~ 7/31 (Sun) 24:00 UTC
"To the scientist that has contributed to mankind"

Great Scientists
Nobel
Marie Curie
Reward for leveling R+ Nobel and R+ Marie Curie to the max level during Season 78, between 10/1 (Sun) 00:00 ~ 10/15 24:00 (Sun) (UTC)
Ad blocker interference detected!
Wikia is a free-to-use site that makes money from advertising. We have a modified experience for viewers using ad blockers

Wikia is not accessible if you've made further modifications. Remove the custom ad blocker rule(s) and the page will load as expected.